Feedback
Your feedback is so essential to the design and implementation of new programs. In addition, feedback from you will assist all pipers. The constant sharing of new and old ideas, ways of teaching and the different levels of understanding will make us all better players. So please share your thoughts.
Please send your feedback to the Captain's Corner by clicking InBox

---
Some feedback over the years:
Sent October 1, 2010
From Roberta Riedi, Wisconsin,USA
Having a great time with Mark Sheridan's yet..(and the new one, I was up for the "blind" challenge...took me a few tries, fun though!! )... great way to get it memorized playing on the web page with your recording. Making me break the old habit of moving on to a faster speed and taking those "three or four phrases" (playing them wrong) along with me expecting that they will just magically make their way correctly some time in the future. I realize the time you had to invest to put all those recordings up for a single lesson too. Just wanted to say that i appreciate it, I shake my head, almost every time i sit down to work on your web site. No kidding, it is like when you go to church and for some reason know that the words are directed only for you.....I sit here and each lesson whacks me in the head for a bit, always seems to be just what i need. I know that is just your tremendous experience and totally my inexperience.... certainly learning a lot. Later, Berta
---
Sent September 23, 2010
From Phil Montgomery
Captain,
Just a note to thank you for the Donald MacLeod tunes: Cronan Corrievrechan and Cabar Feidh Gu Bràth. I haven't paid much attention to modern Piobaireachd and didn't realize what wonderful tunes I've been missing!
Regarding the memorization lessons... you might be interested to know, if you don't already, that Stevie Ray Vaughn(himself)said that he couldn't read music. I've always thought that strange- not so much anymore.
Cheers,
Phil
---
Sent August 31, 2010
From Troy Mulvaine, NY, USA
Ken,
I hope this email finds all well with you.
Iain let me borrow some of his Pipe Band albums. After several that were ok I listened to Clan MacFarlane Vol. 2. This is the best Pipe Band album I have ever heard!!! great recording with super piping and absolutely fantastic drum scores! Looking forward to the coming years pipe and piob lessons.
Cheers
Troy Mulvaine
---
Sent December 31, 2008
From Joe Dunaway, Georgia, USA
Hi Ken,
The CD's for the '06, '07 lessons arrived today and are working well. I really enjoyed the Breton marches set. I missed those in '06 and will have to move them to the top of my "to learn" list.
Since Christmas day was fairly nice down here weather-wise, I went outside and played your Christmas gift tunes etc. for the neighbourhood. Nobody called the police so it must have been received ok!

Happy New Year.
Thanks for all you do for pipers and piping.
--Joe
---
Sent: March 26, 2008
From Brian Burke


Hi Ken: I listened to the Lesson on the Blackberry Bush and I would like to thank you for the two methods of phrasing and pulsing this tune. I think it will come easier now as I have listened to your recording several times. The band is going to tackle this tune next Tuesday and I will have a head start on it. I will keep you posted of how the rest of the band members attempt this reel.

Sincerely, Brian Burke.



---
Sent: March 18, 2008
From Doug Bruce, Thunder Bay, ON

Hi Ken - I think you've chosen a dandy with the competitive reel Bessie MacIntyre. The phrasing lesson makes it very easy to follow the flow of the tune & I'm going to try really hard to play this one. It's a keeper. I will have to play it very slowly at first, of course, & then try to pick up speed, as much as an old geezer like me can!

Thanks, Doug Bruce


---
Sent: March 17, 2008
From Karen Irvine, Faedan Or Pipe Band

Dear Captain Ken,

Thank you for the incredible workshop on Saturday! I really appreciated all the information that you were able to give to me personally and to us as a group and the many tools and special techniques that you taught us... I just wish I didn't have to go to work, so I could spend all day playing!!!!! ; ).... I am looking forward to using the pulsing technique and being able to "digest" the music and not chew on it like grilse for weeks. ...


---
Sent: February 27, 2008
From Zoe Brumfield, Father of the Waters Pipe Band

WOW is all I can say - I have only been a member of your online classroom since the first of the year, but there is almost too much on there!! I just discovered the "Saturday Sessions" pdfs and audio files and they are just perfect for use for our officers to share with the new recruits who are just coming into our band. I wish I would have had this wealth of information when I was first starting the pipes nearly 8 years ago. I am also enjoying the weekly lessons and it has encouraged me to practice more, especially since I have no formal instructor and live hundreds of miles away from the nearest "local" instruction available. Our little pipe band has been recently contacted by 4 individuals showing a real interest in learning the pipes, so this material will really help me assist them in starting out on the right foot. Thank you Ken for your valuable instruction materials. Every piper should be a member of The Captain's Corner!!!


---
Sent: February 15, 2008
From Angus MacColl, Benderloch, Scotland

Hey Ken,
Thanks for sending the 6/8 Ellenorr as you said you would. Its a great tune and I am going to get the kids to play it. I enjoyed the Mardi Gras weekend ( some great pictures ) See you in Toronto if not before

Regards
Angus


---
Sent: February 15, 2008

Awww..... Thank you, Captain!! I will never forget how quickly and efficiently you responded to my very confused request. I was honestly lost, because I was way too new. You immediately gave me things to work on that I could understand, and helped hold my head above water as I struggled along without an instructor. I am and always will be grateful.
I am still on a little "high" from the Mardi Gras workshop, I keep remembering little things you guys said, or tunes you introduced. I have been excitedly telling my instructor all about the things I learned.

Katie McKlemurray, Mississippi


---
Sent: Wednesday, July 4, 2007
Subject: Teaching at the Ontario School
Hello Ken,
It was such a pleasure to meet you at the instructor's recital at St. Andrew's last week. Colleen is spending another week at the school and enjoying it! We spent last weekend with her and she couldn't stop talking about how much she enjoyed your classes. She showed us the words of encouragement you wrote on some sheet music and I can tell you have done wonders for her confidence.
The weekly phone sessions with Sue Gagnon have been great but nothing beats a personal lesson from time to time. She wants to go back to the school next year and has her fingers crossed for getting you as an instructor again. And, she 'gets' pulsing now, something that she found hard to grasp when first coming across it on your site. Learning tunes, she said, will be much easier now. (We heard about everything last weekend)!
So, as parents we thank you for everything you have done for her. If all she walks away with is more confidence and a renewed sense of enthusiasm, it was money well spent. However, we know she has come away with a lot more. If only you lived near Timmins!
Cheers,
Liz and Bruce Cowan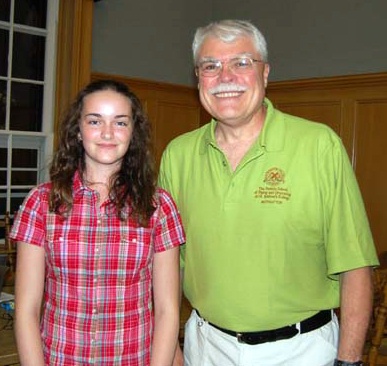 ---
Sent: Wednesday, March 29, 2006 8:14 AM
Subject: Good Morning, Captain!
Happy Wednesday!

Imagine my pleasant surprise to see my name in your blog! I hadn't checked
it in a couple of days, life just gets in the way sometimes, so I was doing a
bit of catch-up reading before getting dressed for work this morning.

I am absolutely thrilled with your new classroom! And I have to admit, a
bit pleased that I was your "inspiration"! ;-) I have worked through the
exercises a time or two, and plan to do more as the week goes on. Do you
remember our first session at Shreveport? I thought "G-grace on the scale?
Of course I can do that! I've been doing it for months!". So what a
terrible realization it was to learn I couldn't do it with the metronome! I
was appalled!! So now I never assume I can do anything. I still struggle
with the metronome, we are not friends. But I am determined we will be...
some relationships just take more work than others!

Thank you so much for creating the new room, I know you've helped so many
others by helping me. I already can't wait til next lesson!!

katie
---
Hi Ken,

Glad to give you some feed back. Your combination of pdf's and mp3's are working well for me.
If you are looking for a specific issue, I could use some help in breaking down reels. I have changed .... to John Cairns by conference telephone. He is helping me on timing specifically to 2/4's and 6/8's and we just started on Piobaireachd. However, the reel is coming slow, and if you have any thoughts on attacking reels that would be quite helpful.

Thanks, Keep up the great site, I find it very helpful and have recommended it to several others.

By the way, will you be back up in Aurora this summer.
Sheldon Hamblin
---
Hi Ken - great to hear from you. Judging from your blog it sounds as if a good time was had by all in Louisiana. I've been playing the Blackberry Bush and trying to take it to the pipes, quite a work out at this point and continuing to work on the Ewe. I've also started working on the Black Bear and the piobaireachd of Donald Dhu. I don't remember if I told you that I signed up for grade 4 solo competition in June competing in the slow march and 2/4march. I am planning to play Leaving Lismore and Donald McLean's Farewell to Oban. I was looking at Jim McBay's welcome in your library, reading along as you played and you prefaced your playing with some remarks about the speed at which the tune would be played for competition - 50 to 55 beats per minute. Does that hold true for the music and level I am playing ? And what speed for the slow march ?
I read the article on memorization by Dr. McKerrell - all very true. Hearing the music and getting a good feel for the tune makes learning from the written page much easier, like you actually know the tune on some level and you know where the notes are going. And that's one of the great things about your Website being able to read the music and listen at the same time .
Take care... Dave Pijan
---
Hello Ken. I am the mother of Zachary Smith, the 11-year-old who was at the Shreveport workshop.
I want to thank you for taking the time to show me a couple of things I can do to assist my son in his quest to play the pipes. I've been working with him on keeping his left hand ring and middle finger straight; and to keep the mouth piece in the center of his mouth. I cannot say I'm very popular...he gets annoyed with me, but it is working. He's even beginning to correct himself!
Zachary had me preview your website tonight. What a great concept! I would like to subscribe to your service. We listened to a couple of your lessons. He said if he closed his eyes it was like he was back in class with you again. In a very short time, you made a big impact!
I look forward to hearing from you regarding this service.
Respectfully yours,
Cathy Smith
---
Hi, Captain!

It's me, Katie.... your most favorite student from the RRPD workshop! :-)

I cannot begin to tell you how much you did for me last weekend. Tommy was
right, I was scared when I got there. I am fairly shy and have zero
confidence, especially when it comes to piping. But he had assured me when
I first met him on Friday night that you were a good friend of his and I
would be well taken care of. Little did I know that by saying I would be
"taken care of", that he meant "become class guinea pig" !! hahaahaaa But
you knew best, your gentle disposition and easy-to-understand teaching
methods calmed my fears and soothed my shaky nerves. Even when I couldn't
play a stinkin' G-grace on the scale with the metronome! How embarrassing
was that?! But I quickly learned that I was not totally alone.

You will be glad to know that my little metronome and I have been working
together daily this week. We still don't like each other very much, but I
am determined to make this relationship work! ;-)

I've only just visited your website today, and can't wait to explore it
further. I see there is a fee for access to the whole site, I think I may
do that. If the rest of your site is as valuable as the one article you
gave us in class, it will be well worth it!! I also see that you do lessons
by phone. I'm not sure I'm ready for that quite yet.... would you recommend
that sort of thing to a rank beginner like me? I would still like to have
information on that, even if I can't do it right now. Would you mind
sending me your rate information?

Thank you so much for making my first workshop experience such an
educational and unforgettable one. I already can't wait for next year....
ooh, do you think you could move up to the D Class so you can still be my
primary teacher?? If not, I may have to repeat E again!

Katie
---
From Bruce "Wrangler" McQueen:
Captain,

The lesson was great. I think it will keep me on track in my remote portion of the world. Monday, Feb 27 at 3pm my time will work well….I penciled it in but we can change if your schedule requires. That gives me a good target for Mrs MacD and George C PC review, and the MSR. I'll take a look at the new 6/8 tonight. I've been trying to sight my way through music books from time to time to improve sight reading skills, so if it gets rainy again I will try to look for something too.
---
From P/M Laurie Gardner, Juneau,
I'm faithfully visiting your site and going through everything provided. I love it!
---
From Dave Pijan:
Thanks a million for the Strathspey lesson ... a really great practice tool and no problems at all with your website.
---
From Gord Fyfe:
Thanks for another interesting and fun lesson.........My head hurts, you are making me think too much!
Thanks in advance for taking the time to record P/M Donald MacLean of Lewis for me.
---
From Scott MacLean, a new subscriber:
I've applied what you wanted me to do by decreasing the distance I lift my fingers on grace notes and particularly the G grace note. Found that I can keep time better as you said it would and I also like the way it blends in with the music on the pipes.
---
Ken ,
It was great to see you at Winter Storm, excellent job of emceeing the competitions and concert, and I have to say it was great to see someone who has been around piping a long time still get excited by a great performance. When Stuart was playing there at the end, you had this huge smile on your face and were the first person out of their seat to give him applause.
Kevin Arnold, Omaha, Nebraska
---
Good Morning, Captain!

We're all a bit bleary this morning (Diana says you're a bad influence!).
As always, we enjoyed your company immensely. Thanks for helping Carraig
with his G gracenote technique - the idea of using the G finger to lift or
lower the theme note is brilliant.
Dr. Michael New, DVM, Juneau, Alaska

---
Hello!
I was in the Winter Steam 2006 beginner workshop in Kansas City. During the Sunday morning session you mentioned a couple of items to request from you by email. Well, I finally found your business card with your email address on which I scribbled down the note to myself to email you!
The items you recommended for us to request from you by email were:
1. Structure of Music
2. Arpeggios
I would appreciate it greatly if you could email me the information at your earliest convenience.
Thank you so much, and your workshop session was truly inspirational to me!
Cheers!
John Findlay
Student Piper
KC St. Andrew Pipes & Drums
---
Ken,
Our band had an all day practice yesterday..it was awesome we had been practicing all the things you had given us at the Winter Storm....we went back and are re-learning all our tunes cleaning them up as we go. It was amazing at the difference it made on pipes in just 1 practice. I am struggling in keeping up with your lessons, so I just save them and will get to them when I get there.
One thing I would like to work on is keeping my grace notes and doublings even, I seem to shorten some of the grace notes and not on others. You have any suggestions to work on that?
Thanks
Randy
---
Hi Ken , Thanks so much for the passwords into your site what a useful tool. I'm using it to learn the new hornpipe. Its like sitting down at a chanter lesson with you. If its not to much trouble could I ask you to send (at your leisure I know your busy) an mp3 file of you playing Ewe with the Crooked Horn like you did for the Blackberry Bush? It doesn't have to be more than one time through at maybe 80 bpm so I can clearly hear the rhythms. After working with the hornpipe I'm amazed at how useful this system is in learning a tune. Thanks again for everything.
Dave Pijan, Juneau, Alaska
---
Randy Dear, from Austin, Texas writes:
Ken,

I love your website, on my days off I spend hours reading and playing the
chanter. As I told you at Winter Storm, we .... rushed to learn
quickly . The downside to that is I never got to "learn" about pipe music, building tunes,
arpeggios and most of importance of the chanter work. I would love to learn all
these things you speak of, please show me how. Keep up the great teaching.

The Sponge,
Randy
---
..........I realized what was bugging me ...... the problem is your voice tone. The Ken Eller I know doesn't express himself that seriously. I always hear you expressing yourself with a smile in your voice and with passion. This is the only thing I can suggest that you to improve.

And this shall be attended to immediately....Voice lessons for the Captain !
---
The following is an email I received recently as we strive to perfect our system on line. It came from Roberta, one of the early subscribers, who has diligently responded to the early downloading concerns that exist with all websites. Thank you Roberta for all your efforts:
Hello Ken,
I just had to look and could see there was already a change on the web page. The audio download is perfect and I was able to get it onto the hard drive and reopen it from there.
I am relieved that the lesson is on the practice chanter. I like your phrasing technique and the speeds demonstrated. I am thankful for the recommendations on playing speed too.
I can really hear the specific doublings now ( and their associated beats). Just like you intended, I imagine, as though "we" were all in a classroom for chanter practice. I am thrilled!! I have a real instructor for the first time. There is little piping in northern Wisconsin as you well know and I have at least 3 new recruits for you in due time. (No, none of us can practice together ...maybe in a few years).
Again, thanks so much Ken, for such an endeavour as this.
Roberta
---
The following comments were received recently from Jim Clough, Pipe Major of the Mohawk Valley Frasers of Rome, New York. This fine organization consists of three competitive bands in Grades 5,4,and 3. I had the pleasure of doing a weekend workshop with them in March of this year. Here is what Jim had to say a week after my visit.
---
Ken,
Sometimes the simplest ideas turn out to be so very powerful.
I've got to tell you how what a powerful teaching tool I am finding your explanation of doublings as being a G gracenote (coinciding with the beat) on the theme note and then thinking of the theme note as running through the note's duration -- with the doubling's second active gracenote being merely superimposed over the theme and momentarily masking the theme. The idea is universally applicable; it works for every doubling and is helpful for veterans as well as beginners, fast fingers as well as slow. It prevents pipers with slow doublings starting the doubling early to "allow room for their slow fingers," and when combined with the idea that G is our "power" gracenote, it allows band pipers to feel comfortable just making a G rather than the whole doubling: like a drummer with his "unison chips" a "G-only" piper can take pride in the idea that he's adding to the "power" (and the band is a lot better off than if he were making big clumsy doublings). For solo players, too,
the idea is invaluable: I've found it useful in getting Nick Lundberg to open and strengthen the G of his doublings.
Also liked your reminder to the Grade 5 that it's the lightness of your right thumb (which doesn't even have a hole to cover) that frees up your fingers on the other side of the chanter.
Thanks for a great job.
Jim
---
Now isn't this a great bit of knowledge that is being shared with all of us.
Write me with your feedback...it is eagerly sought.
The Captain
Copyright © 2005 - 2015 The Captain's Corner