Photo Gallery

Click for Slide Show
The Summer in Pictures - 2007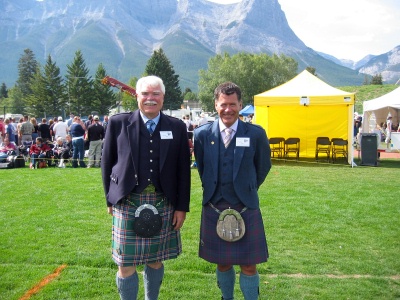 The Captain with fellow adjudicator, Bob Worrall at Canmore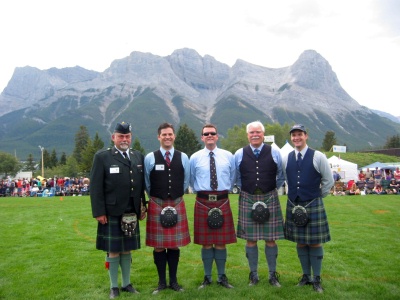 My Canmore judging team - Dusty Rhodes (M&D), David Hilder, Duncan Millar, The Captain, Alan Bevan
---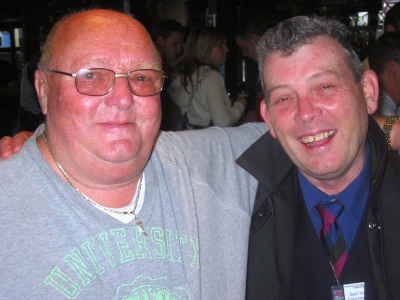 Bobby Rae, the great drummer from NI alongside his friend, piping judge Sam Young from Australia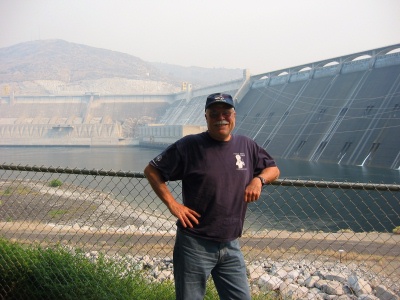 Just relaxing near the biggest dam on earth - the Grand Coulee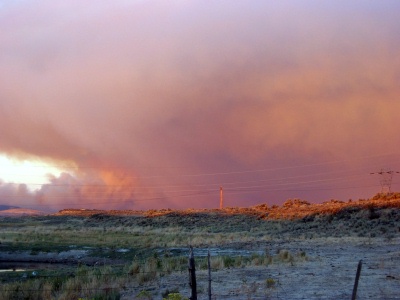 Smoke from a nearby forest fire stretched for some 75 miles....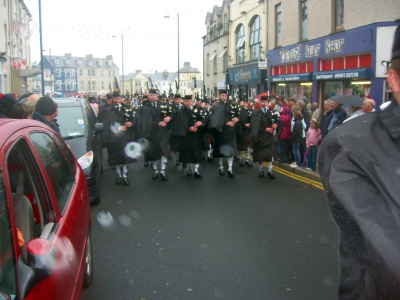 Pipe Major Richard Parkes leads FMM through the streets of Portrush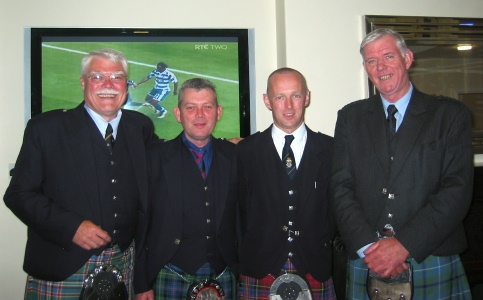 Portrush Judges at a Civic Reception - The Captain, Sam Young (Australia), David Brown, Alan Ronaldson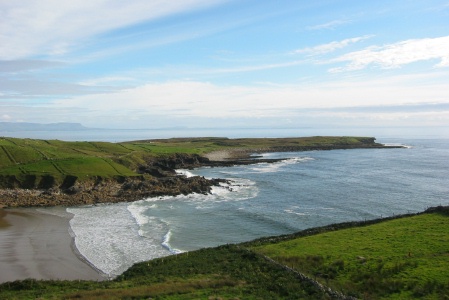 The rugged coast and beaches of Co. Donegal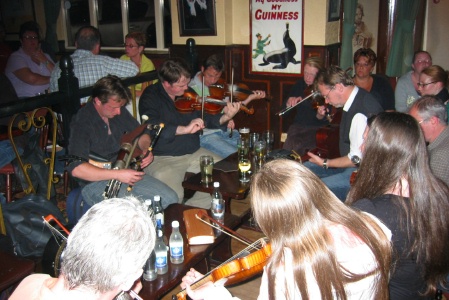 The session in Bunbeg, Co. Donegal in August.... the pubs come alive after 10 pm !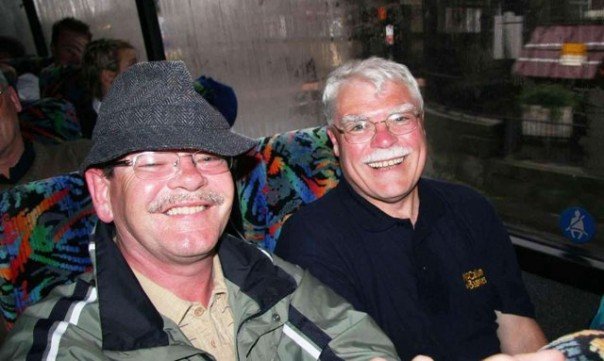 Pipe Major Nat Russell, Victoria Police, Order of Australia ... my friend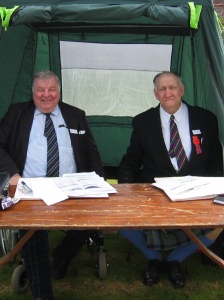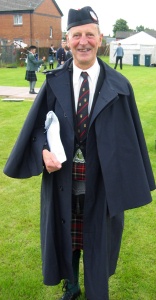 Angus J. MacLellan and PM Ronnie Lawrie on the bench PM George Lumsden, Edinburgh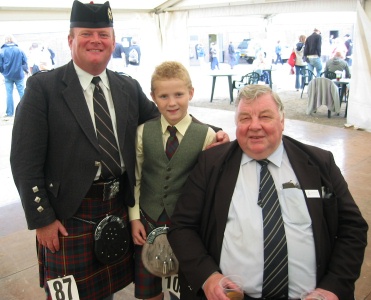 Pipe Major Alasdair Gillies introducing a young piper to Angus J. MacLellan at Cowal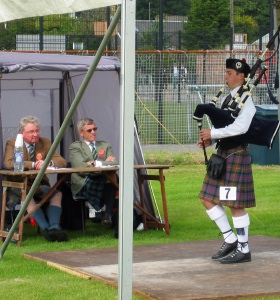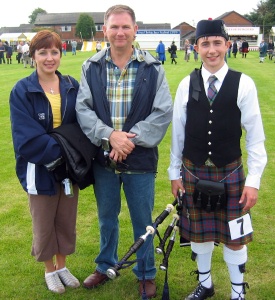 James Carnegie competing before Andrew Frater at Cowal and with his parents, Cindy and Kevin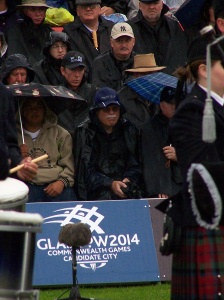 The Captain - enjoying the World's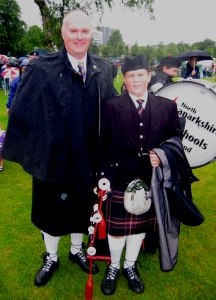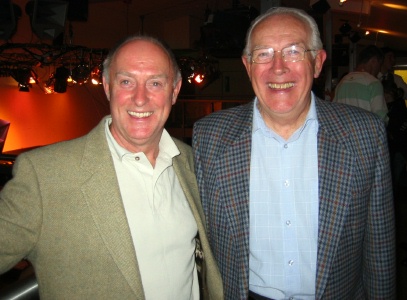 Iain and son Graham Donaldson Joe Noble and Ian MacLellan, long time stellar performers and adjudicators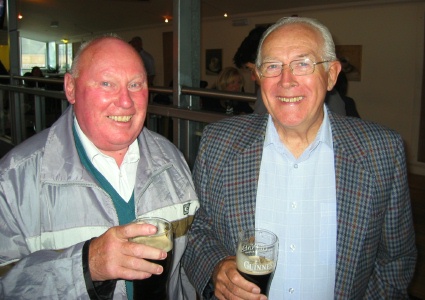 Two of my close friends on the RSPBA panel - Malcolm MacKenzie and Ian MacLellan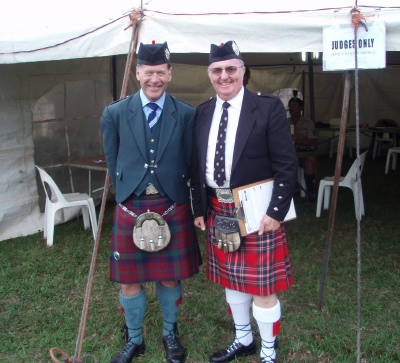 South Africa - 2007
Bob Worrall visiting with former Clan MacFarlane piper, Roy Blevins.
Nice to see the old kilt still being worn there, Roy !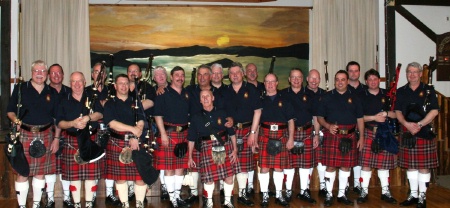 Clan reunion - 2007 - Windsor, Ontario concert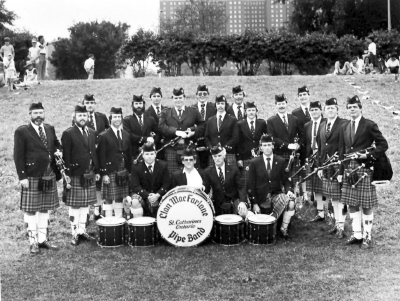 Chicago winners, 1984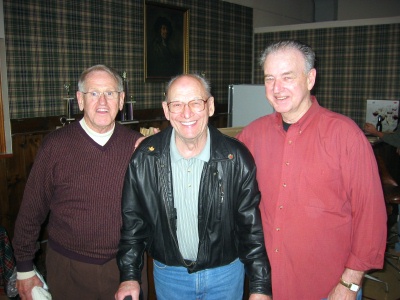 Three of the founding members - Jackie Fair (bass), Tommy Hills (tenor), Mike MacNeil (pipes)
April, 2007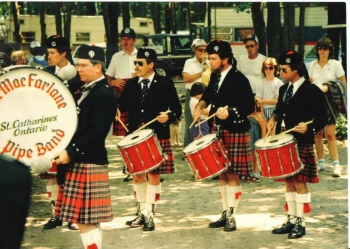 The Clan MacFarlane Drum Corps - early 1980's
Bass Dave Anderson, Sides Gary Meisner, Al Pocock, Dave Coleman, Graham Perrie
To the far left (out of sight or should I say, in the drummers' line of sight), LD Bob Downes
(courtesy of Al Pocock)
Go 'gers Go !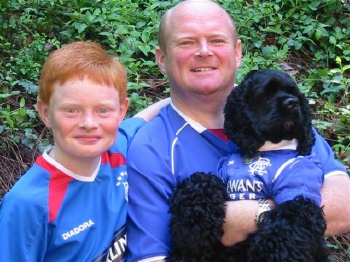 Gotta love a dog that has trained its pets well!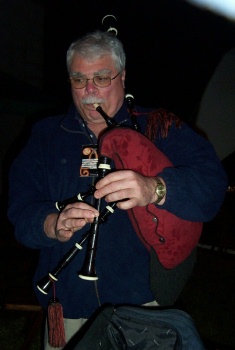 The First South American Celtic Music Festival, Montevideo, Uruguay, March, 2003
The Captain attempting the Galician pipes
a fabulous sounding instrument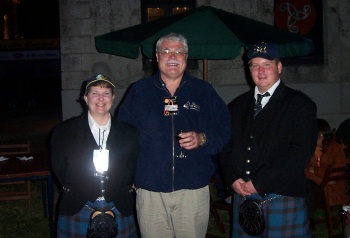 Montevideo, Uruguay, March, 2003
My good Friends - Danette Rush Kokoris, P/Sgt of the City of Dunedin Pipe Band
and her brother Dan Rush, a piper in the band
( Photos courtesy of Danette)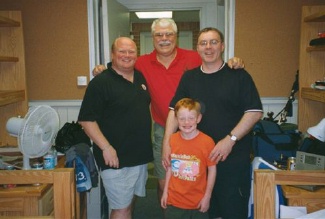 Alasdair Gillies, The Captain, Willie McCallum
Alasdair's son Norrie in front
Ontario School of Piping and Drumming 2003
(courtesy of Willie)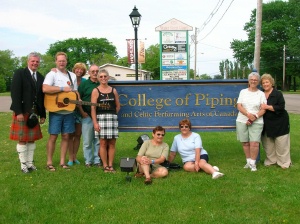 McPherson's Rant with College of Piping Director Scott MacAulay in PEI
The "Rant" includes former Erskine piper Kelly Buckley with her husband Al , sister Sharryn and husband Gene
The best in Irish/Folk music
(courtesy of Kelly)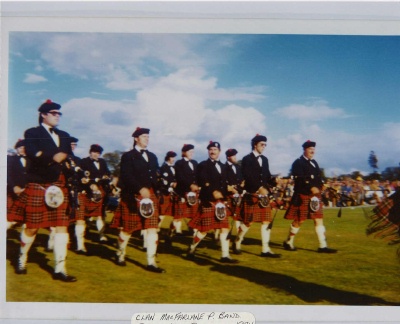 The Clan coming off the field at the World's Championships in Stirling, Scotland, 1974. Front Row - The Captain,
Bob MacCrimmon, Ronnie Rollo, Gary Moore and Noel Slagle
(Courtesy of June Rollo)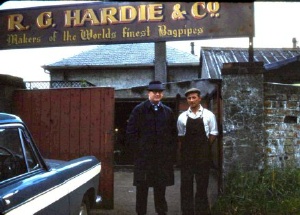 A young Bob Hardie in front of his Bishopbriggs Shop with my good friend Robert Boyd
(1960's photo courtesy of Bob Boyd)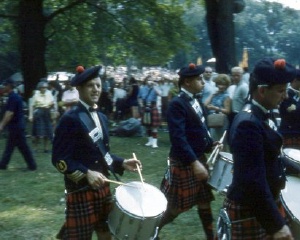 D/M John Kirkwood Sr, Jimmy Agnew (centre) and Bill Cochrane (cigarette behind ear)
(photo courtesy of Bob Boyd)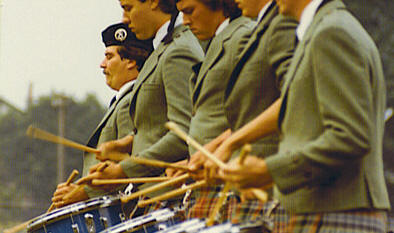 Lead Drummer Jim Sim, here playing Ludwig shells with high-end hardware
(courtesy of the Midlothian Pipe Band)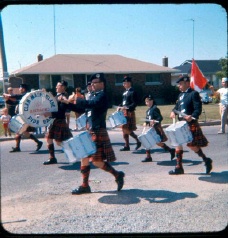 The Clan MacFarlane Drum Line 1965
D/M John Kirkwood Sr., Dave Haynes, John Kirkwood Jr., Jimmy Agnew
Tenor Bill Cochrane, Bass Jackie Fair, Tenor Tommy Hills
(photo courtesy of Dave Haynes)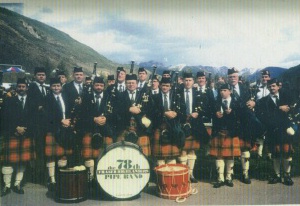 The 78th in Vail, Colorado - 1995
A young Tyler Fry in front of the Captain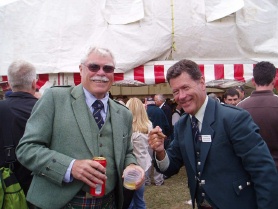 One Cuban ( Bob Worrall) and one McEwen's (the Captain)
after the World's - 2005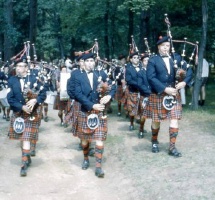 Pictured from the left is Jock Reid, myself and Noel Slagle, around 1965.
Both Noel and Jock were long-time Pipe Sergeants of the Clan MacFarlane Pipe Band.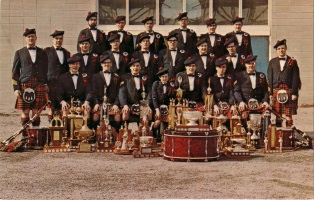 The Clan MacFarlane Pipe Band - 1969
Many of the players in this band are no longer with us, but are always remembered : Jackie Fair, Jim Agnew,
Jim Fryer, Alec Price, Jim Greig, Tom Weir, Noel Slagle and John Kirkwood, Sr.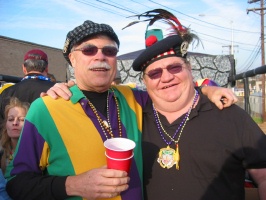 The Mardi Gras Parade with James Parker
The Red River Pipes and Drums annually hold their winter workshop in Shreveport around the Mardi Gras parade weekend. James Parker has been instrumental in everything piping in Shreveport, besides being the best!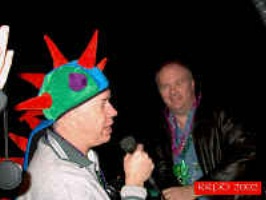 Mardi Gras Parade Again
Two of my favorites : Jim McGillivray and Iain Donaldson ... both play better than they sing or listen! By the way if you wish to visit them, try the British Shop , Buffalo, NY or McGillivray Piping , Aurora, ON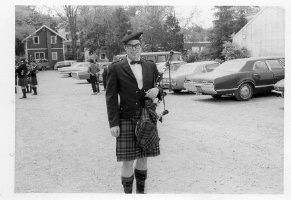 Myself around 1968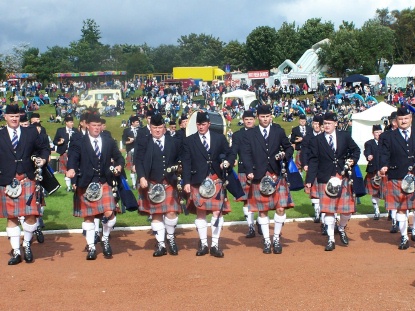 The House of Edgar - Shotts and Dykehead exiting the field at Cowal in August of 2005 - P/Sgt Rob Mathieson ??
Who is the Pipe Major ?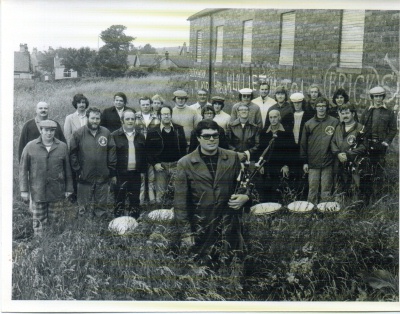 The Clan MacFarlane Pipe Band, 1974
in front of the old Shotts Band Hall....how times have changed !
Remembered in this photo are certainly Ronnie Rollo, Jackie Fair, John Watson, Noel Slagle, Alex Marshall, Jim Kirkwood,
Gus Brazeau and Keith Eller ...
Copyright © 2005 - 2015 The Captain's Corner