Welcome to the Subscription Centre
Looking for a tune ?
Looking for an educational article ?
Searching for piping links ?
Needing a lesson?
Band workshops ?
Researching history ?
It's all here...just a click away. Whether you are a subscriber or just a browser, you will find a variety of information in the Captain's Corner....enter, stay a while, come back often.
Subscriptions
To subscribe, to go on our mailing list or to make enquiries, please email either the Captain or the Admiral.
The subscription rate is $52 CDN per year if paid through PayPal. Alternatively, a cheque for $52 CDN or USD payable to Ken Eller and sent snail mail to the address below would assist US subscribers.
Here is what you get:
Weekly tuition - exercises, drills and new music in the classroom
The Novice and Instructor's Area - a programmed learning experience from the start
The Reading Room - articles of a musical, technical and historical nature (The Journal)
The Library - archives of past sessions
The Student Lounge - mailboxes for all students for private tuition and correspondence
Your own web page for personal promotion
The Blog for daily communication of piping events (free to all)
The Highlander's Institute - the concert and audio download area
Make this your piping central and contact either the Captain or the Admiral today.
Subscription is easy .... Credit cards accepted through PayPal. Click on the Corner Store and add a single subscription to your shopping cart.
If you would rather, a personal cheque for $52 CDN or USD payable to Ken Eller and sent to
2180 Hollow Road, Fonthill, ON, Canada, L0S 1E6
Upon receipt of your subscription, you will be issued a Passport that will allow you access to the School and its many rooms. Membership privileges include on-line lessons 365 days per year. I look forward to your first lesson.
Band Rates
Take advantage of the band package. This feature allows an individual subscription for personal tuition for every piper in the same band. Each piper would be issued a passport with a Username and a Password to allow entry into the school. Each player can then receive the tuition he or she requires to take them to that next level. Pipe Majors can receive advice in operating the band, selecting music, tone and tuning and anything else that pertains to this important position. Teachers can consult with me directly about various approaches to the learning process. The annual fee for this service is $250 CDN, payable by Credit Card or cheque
Click on the Corner Store and add a band subscription to your shopping cart.
Instruction On SKYPE or over the Phone

click on image
As a service to pipers, the Captain offers long distance real-time lessons. By using your speaker phone, a one hour lesson can be conducted in the privacy of your home at your convenience. Please contact the Captain for rates and schedules.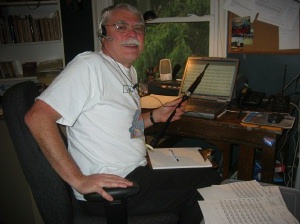 The Captain delivering a tele-lesson during the evening
The Captain
Copyright © 2005 - 2015, The Captain's Corner