T
he Piobaireachd Classroom 2012
Click on image to order from the Captain
$40 plus P&H
This classroom is designed specifically for the novice piobaireachd student. To learn music of any sort, one must master good technique. Good technique is not simply one of playing the notes as written, but of doing so with the correct rhythm. Once mastered, tunes then can be learned, phrase by phrase, by understanding the melodic pattern. It is the intent of this classroom to introduce technique and structure concepts as needed using a tune as the backdrop for your understanding. As the degree of technique raises, so will the degree of difficulty of the tune. Lessons will be presented in the usual form - notes plus an audio compliment. Only when the lesson is learned completely, should a student proceed. This means being able to play all from memory with no assistance from the written score. This is fundamental to all good piping, just not piobaireachd.
You are now ready to begin.
The Tunes for 2011 are now available on CD and can be ordered from the Captain's Corner
The Tunes for 2009 are now available on CD and can be ordered from the Captain's Corner
The Tunes on the 2009 CD
---
Lessons
The Lament for the Iolaire
I have been teaching this tune for some time now. From the pen of the great Pipe Major Donald MacLeod, it has all those sweet musical characteristic of his piobaireachd. A wonderful melody is surpassed only by the tragic story surrounding its composition. Of importance, Donald MacLeod was born in Stornoway, 1917.
Lesson 1

---
Lesson 2
---
---
Catherine's Lament (Cumha Catriona)
Lesson 1
The Music
---
Lesson 2
An Alternate Approach to the Ground using Variation 1
The Dithis
---
Lesson 3
And now you can play the Ground!

---
---
The Battle of Auldearn #2
Lesson 1
The Music
Listen to the great John MacFadyen playing the Battle of Auldearn #2
---
Lesson 2
After committing the ground to memory, the doubling of the ground will be easy.
---
Lesson 3
The Dithis Variation - a rhythmic G and E grace note movement on the theme notes
---
Lesson 4
The Dithis Doubling - double up on the theme notes
---
Lesson 5
Variation II - some Taorluath and a lot of swing!
---
Lesson 6
Variation III - a strong GDE Rhythm!
---
Lesson 7
Time for the Taorluath Variation!
---
Lesson 8
The Crunluath Variation!
---
Lesson 9
The Crunluath a Mach Variation!
---
On a regular basis, you will be able to download recordings of tunes by some of the greatest piobaireachd players in the world.
---
Allan MacDonald
One of the most knowledgeable and greatest exponents of Gaelic music and its cross pollination with piping, clarsach, fiddle and song, has to be Allan MacDonald from Glenuig, Scotland. He has several recordings with Margaret Stewart , combining vocal and pipe versions of many ancient melodies. Recently, a video of his was put on YouTube and it is well worth the look. He involves many different instruments in the playing of a theme inspired by
Duncan MacRae of Kintail's Lament
called
Cumha Dhonnchaidh Mhicrath - King of Laois
---
Willie McCallum
Willie McCallum is arguably the king of the present day competitive piping scene. With 8 Glenfiddich Championships to his credit he has no peers. This impressive record also includes several runners-up. So whenever Willie is competing in a major event, you can rest assured that he will be in the hunt for the top prize. As with many of the top professionals, Willie has other interests as well. Along with Stuart McCallum of McCallum Bagpipes, he has designed and marketed the prize winning MC2 pipe chanter. An accountant with Strathclyde University he is also an ardent season's ticket holder for the Glasgow Rangers Football Club. Many fans were able to meet Willie last year when he competed in NYC at the Metro Cup - and just happened to be declared overall champion. It is sage advice from Willie that has become important for all my students. His response to the question "when is a tune ready to use in competition or for a performance?" was very simple:" When I can play it flawlessly 3 or 4 times in succession" I subscribe to this totally.
As a pleasant follow-up to Colin MacLellan's Little Spree, I think you will find The Big Spree from Willie one of the finest listens to date. Many thanks to Willie for allowing the Corner to present his tune here.
---
Colin MacLellan
Colin MacLellan, holder of piping's most prestigious prizes, the Gold Medals at both Inverness (1982)and Oban (1992), is a world renown reed maker from Edinburgh, Scotland. He is a premier instructor at Winter Storm in Kansas City each January as his recording here will attest. He is playing The Little Spree on the practice chanter, part of his preparation for instructing at the KC event. Other recordings and lessons from Colin can be downloaded from his website. While visiting, check out his online reed service. I use his reeds as do many of my students - sound is superb and the service the best. Now for The Little Spree, some historians subscribe to the story that this tune was composed by a MacGregor chief about a blacksmith, a courageous warrior and equally dynamic drinker, causing him to tear up the town, so to speak, from time to time. However, if true, this story does not suggest the sadness that so many find in the tune - perhaps more a lament than a rousing "spree" song. The Captain's Corner thanks Colin MacLellan for his permission to present his tune here.
The Ground and Variation 1 Taorluath and Crunluath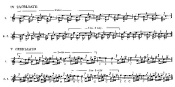 Click on Images to Enlarge Images
Click to Download the Piobaireachd Society Full Tune (pdf)
---
Alasdair Gillies
Alasdair Gillies, a major player in the world of competitive piping for more than 20 years plays the Donald MacLeod composition, Cronan Corrievrechan (Corrievrechan`s Lullaby). Alasdair recorded this tune as a favour to me for one of my students and we thank him for it. The music may be found in Donald MacLeod's Collection of Piobaireachd, Volume 1. It is a recent composition, meaning the 20th century, of course. In Donald Macleod's own words about Corrievrechan's Lullaby,
"`Traditionally, the whirlpool sings Pos mi's posadh mi thee (Marry me and I will marry you). It was believed that if one entered its clutches, there was no escape. There is an old Gaelic song of the same title"
Alasdair playing here is very special as he is the holder of the Gold Medals at both Oban and Inverness. In addition, he holds the record for Silver Stars for former winners' MSR at Inverness (11 and counting). Professionally, Alasdair teaches in the piping degree program of the Department of Music at Carnegie Mellon University in Pittsburgh; this all following an illustrious military career as Pipe Major of The Highlanders in the British Army.
The Ground and Taorluath Taorluath D and Crunluath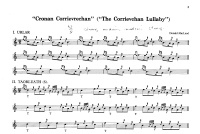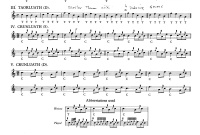 Click on Images to Enlarge Images
---
Whence Come We
Today's pipers in Ontario like Bill Livingstone, Bob Worrall, Gail Brown, Chris Anderson, Michael Grey, Reay Mackay, and so many more were taught by the great John Wilson, who emigrated after WWII to Hamilton, Ontario in 1949. From his Saturday morning classes at Fort York Armouries in Toronto and his private tuition, came the foundation of Ontario's competitive piping scene. In some cases , like Bill Livingstone, these players rose to rival their teacher in Gold Medal glory. For many others, they took their spots as instructors and Pipe Majors of many of the province's top bands. In all cases, John's students are having a major impact on the piping world about them today.
Now John Wilson came from somewhere and that was Roddy Campbell. At this point every bit of piping history starts to explode, because prior to Roderick Campbell, we are back to the great generations of Cameron's ! Yes, Sandy Cameron, Donald Cameron and the Cameron school as so many talk about. This is where Roddy Campbell received his tuition.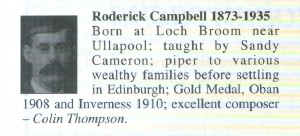 ---
---
Copyright © 2005 - 2012 The Captain's Corner