The Blog Log
---
The Shopping Mall



---
Ian Whitelaw - Wins the Angus MacDonald Memorial

with Nameless Hi Harin, Dro O Dro
---
Designed by Willie McCallum and Stuart McCallum

---
Special Presentations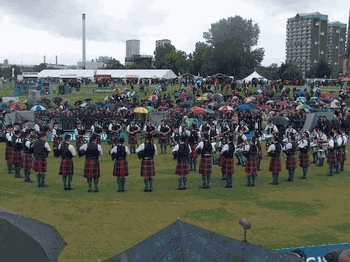 The Scottish Lion, 78th Fraser Highlanders Pipe Band - Glasgow Green, 2007
---
Go to the bottom of the Blog! December Cruise, Highlanders Institute, Archives
---
Wednesday, October 31, 2007
What's your take on downloading music from the web ? Have you tried it? Is it a regular for you. I have regularly used iTunes to fill the gaps on my iPod ... music that was once in my collection on vinyl, but now re-mastered and available online. My use of iTunes surfaced again yesterday when I got two emails .... one from TradTunes and another from a new source called Scotsload Music. It is worthwhile having a look at both these sites for much the same reason as I use iTunes. On top of that, new releases are offered always, bringing the current crop of musicians to the fore. Here's a link to both: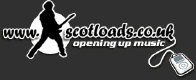 ---
Monday, October 29, 2007
Andrew Wright - Balvenie Medallist, 2007
Andrew Wright of Dunblane, Scotland is the recipient of this year's premier non-competitive award - the Balvenie Medal awarded for services to piping. No one deserves it more than Andrew - double gold medallist in 1970, member of the famed Red Hackle Pipe Band under PM John Weatherstone in the 70's...former long time president of the Piobaireachd Society... adjudicator with the CPA and the RSPBA .... mentor and tutor to countless piobaireachd students chasing piping's many other prizes. Congratulations, Andrew !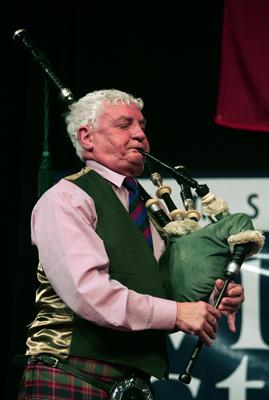 Andrew Wright playing the Desparate Battle at Winter Storm, Kansas City
---
Sunday, October 28, 2007
Congratulations Gordon Walker!
Gordon Walker rose to the top yesterday with the coveted win at the Glenfiddich, besting the odds makers who saw him a close 4th at best. Perennial champion Willie McCallum, although winning the MSR didn't make the list for the Piobaireachd and had to settle for show money in the overall event. Nipping Willie for the second overall was his good friend Roddy MacLeod, who took the Piobaireach banner. The final unofficial results read:
Gordon Walker - 4th piob, 2nd MSR

Roddy MacLeod - 1st piob

Willie McCallum - 1st MSR

Iain Speirs - 2nd piob

Jack Lee - 3rd piob

Angus MacColl - 5th piob, 4th MSR

Alasdair Gillies - 3rd MSR

Stuart Liddell - 5th MSR

(tie) Richard Hawke , James Murray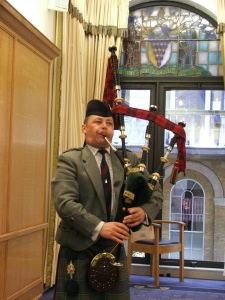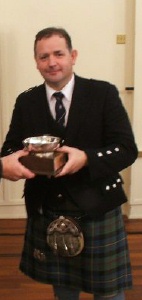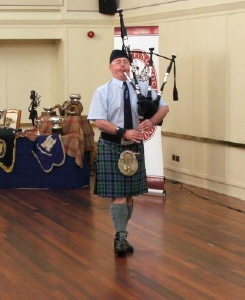 2007 Glenfiddich Champion Second Overall Third Overall
---
Friday, October 26, 2007
Do You Drink Glenfiddich ?
Well I do ! This time of the year - and I usually wash it down with a Belvenie chaser! Tomorrow is the annual Glenfiddich Championship for professional piping - the unofficial world championship. In addition, this year's selection for the Balvenie Medal for services to pipng will be announced. From this side of the pond, there is great anticipation for both. Will Willie McCallum extend his own record of 8 wins? Will Angus MacColl repeat as champion ? Will there be a first time winner? Well, I had to go to the Blair Atholl office of Ladbrokes for the last minute odds on the major players ..... here they are!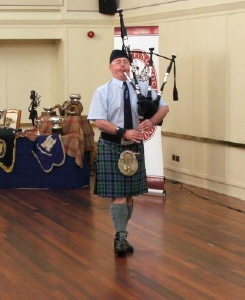 Willie McCallum 3 - 2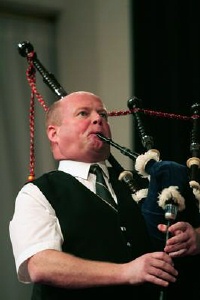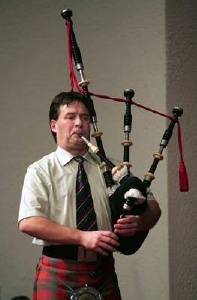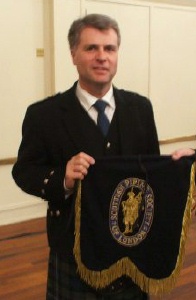 Alasdair Gillies 3 - 1 Angus MacColl 3 - 1 Jack Lee 5 - 1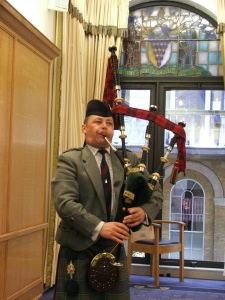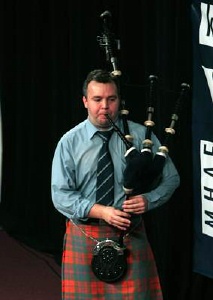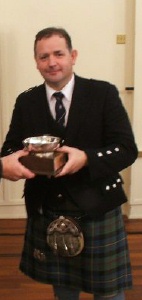 Gordon Walker 5 - 1 Stuart Liddell 6 - 1 Roddy MacLeod 7 - 1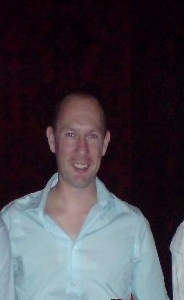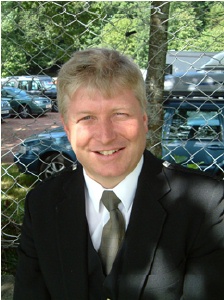 Iain Speirs 8 - 1 James Murray 12 - 1 Richard Hawke 12 - 1
---
Tuesday, October 23, 2007
The Customers Always Write...
as Seumas MacNeil so often wrote in the Piping Times. Some responses to the local apathy issue for workshops, concerts, piping schools and the like:
From Sandy Keith, Dunedin, Florida
Right on Ken.
Not just in Ontario, all over North America.
I guess most pipers must think they know it all.
Sad.
We all can learn
Sandy
From Brian Robertson, Windsor, Ontario
Hi Ken,
I read your blog all the time, but this is the first time I've decided to respond to a post.
I am from Windsor and play with the Windsor Police Pipe Band Organization. I was PM of our Grade 3 band this past season. It was a huge learning curve for me, and I sought out every ounce of experience available to me. We never really performed as well as we should have, but we held it together.
Are southern Ontario pipers too good? Hardly. I think everyone would agree that even when you are at the top of your game, there is always room to improve. I think that in this particular context (the low attendance at workshops, etc.) advertising is more of an issue than 'smugness' among the masses. To the best of my knowledge, the WPPB organization (and perhaps the Windsor-Detroit branch of the PPBSO as a whole) rarely receives any notification about these events. It could be that the information just isn't getting passed along to the people, but I'm skeptical. On one occasion, I attended a workshop/recital and then received the flyer for it a week after it had passed. Perhaps if more pressure was put on the individual branches to get with the program we would see an upturn in events like this, especially those sanctioned/promoted by the PPBSO. Ideally, organizers of events should be able to contact the PPBSO, who would in turn inform its affiliated branches, who could then contact representatives from their member bands and request that this information get to all members. This should be a small undertaking now with the use of websites and email. Maybe the same result can be achieved by a different method. Most of the middle steps could be eliminated if the PPBSO would use its member database (with emails) and contact the members directly.
Another idea would be to contact all the registered piping/drumming teachers and request that they help by endorsing these events to their private pupils.
As you pointed out, times are changing. It is a shame that major prizes aren't being brought/kept in Ontario when there is such an outstanding amount of knowledge and expertise right here. A lesson in underutilization I suppose.
Anyway, just my two cents,
Cheers,
Brian-
From Doug Bruce, Thunder Bay, Ontario
Hi Ken - ...I want you to know how much I am enjoying your lessons on pulsing, as I did at the evening session this year in Aurora. Not only do I now get the "flow" of the tunes, I am starting to understand the hidden subleties therein.... Started way too late but have the DESIRE to improve. Which brings me to my last comment. A lot of of us in Northwestern Ontario would kill to be able to attend training sessions like Stratford, but the cost of travel to more than one a year, such as Aurora, is prohibitive for a lot of us. What the hell is wrong with pipers & drummers in the sunny south? An hour's drive? Maybe two? We can only dream of a situation like that!!!! I live in the North for a variety of reasons, but wish I could get more training without having to drive for 16 hours or pay up to $1000.00 for a flight. The people in Southern Ontario have no idea how lucky they are.
Keep up the excellent work!
Cheers, Doug Bruce
From Marilyn Willis, Cambridge, Ontario
...know Geoff was really struggling with numbers this year. Years ago Frances and I had the same thing - just one year we didn't get a huge attendance but it turned right around the next year. Just read your article and I have to agree with you about piping in southern Ontario. I also think they are just lazy and want everything for nothing.
Another thing I think may be hurting the Sessions is that they are only holding it every other year and people forget.....
Marilyn
From Ronnie Rollo, President, PPBSO
Good Monday morning Captain, Your article on the corner is dead on.At one time Ontario had the best to offer in North America, but no longer. I see this through our entire piping scene.The PPBSO at the branch level, with (a few) exceptions is quite dismal. The members just seem to have no interest. What to do about it is the 50 thousand dollar question?? Hope to see you at our AGM.
Cheers Ronnie
From Geoff Neigh, Stratford, Ontario
And also, I couldn't agree more with the "rant" about the Sessions on your web site. (A lot of pipers and drummers) in Ontario think they don't need a lesson. Time that someone said it in a public fashion. Well done.
From the Rev. Shawn P. Duncan, Hamburg, NY
Hi Ken!

Saw your blog post. I imagine there are some economics involved here
also. I'm sure that between instructor fees and expenses the fees
are reasonable to make the event viable. However, we considered
coming until we saw that it would cost us $400 to bring the family.
Now I know that we're unique and that most pipers are solo in their
family - $100 from a family budget is a lot easier to accomplish!

Anyway, sorry to miss spending a Saturday with you!

- Shawn
---
Sunday, October 21, 2007
Are Southern Ontario Pipers Too Good?
The Stratford Sessions were held yesterday to a less than full turnout. Organizers Geoff and Marion Neigh did a great job as usual but numbers were so low this year that the event was in limbo until the final week. The super cast of instructors represents Ontario's best - Bill Livingstone, Bob Worrall, Jim McGillivray, Ed Neigh for piping - Doug Stronach, Graham Brown, Duncan Gibson and Emily MacLeod for percussion with Dr. Pat Potter conducting workshops on piping ailments and injuries. We can't offer anything better.
The attendees came from a long distance - Milwaukee, Wisconsin to Timmins, Ontario - even Montreal, Quebec. Closer to home - very few - in fact, I live here in the Niagara Peninsula and there was only a single member of one of the 6 local bands in attendance. And let me tell you, they all can use a lot of tuition !
What is the matter with the southern Ontario piping community? If they were atop their respective grades in Glasgow every year, I could understand. Then they would be the instructors instead of potential attendees. But far from this - a smugness has crept in over the years. The Ontario piping scene just isn't anywhere near where it used to be atop the North American charts. The west is best - as witnessed by the Maxville and World's results. In all grades from Grade 2 to Grade 5, we need help and it exists right here!... But do you think bands and players here recognize that ?...Smug (and snug) in their own private worlds....
Take the Piping School scene for another example - The Kingston School this past summer came close to collapsing because of poor attendance, just making it at the last minute. The Ontario School in Aurora, perhaps the best in personal student attention, runs year in and year out because of pipers from south of the border or home grown by the teachers hired!...not from the Southern Ontario piper.
Let the Scottish Lion - 78th Fraser Highlanders put on a concert in Toronto - then draw only a handful of spectators. I dread to think what the loss might be if they don't fill the Living Arts Centre in November.
Come on Southern Ontario - from Windsor to Niagara to Toronto - get with the program. Its time to assess your progress or lack of. Spinning the perverbial pipe band wheels and regressing seems to be by choice, not fate. The best piping and drumming influences in the world might be right here in Southern Ontario. Isn't it strange that most of their commitments are out of area ?
If the shoe fits - write the Captain.
Return to the Blog
---
Wednesday, October 17, 2007
Willie McErlean on Donald Shaw Ramsay
I received a super letter today from my close friend Willie McErlean, Coquitlam, BC. Willie was the lead drummer of the famous Triumph Street Pipe Band when they won the World's Drum Corps prize - I believe way back in 1976 .... I stand corrected. A life long friend of Willie's was Pipe Major Donald Shaw Ramsay, Edinburgh City Police Pipe Band and the Invergordon Pipe Band. As Willie writes (using pen and pencil, BTW, a long lost art in this day of electronic communications) :
Hi Ken. Just thought that I would drop you a line on some information in an article I wrote for Robbie MacNeil (BC Piper's Association).

Willie McErlean, Lead Drummer from the glory days of The Triumph Street Pipe Band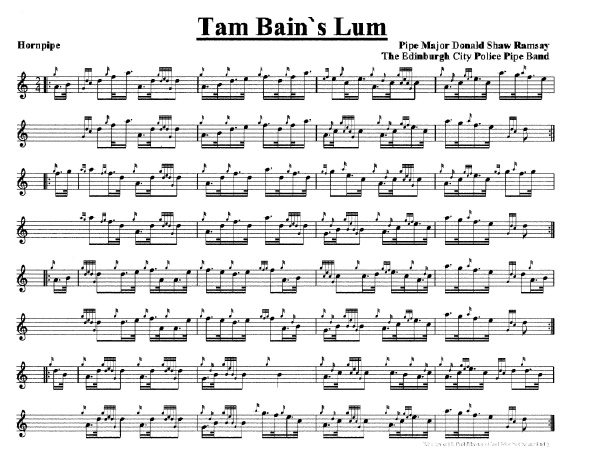 Score for Tam Bain's Lum courtesy of Pipe Major Alasdair Gillies - original using Piobmaster software
Click on score image to download a printable copy of Tam Bain's Lum
My pick of hornpipes would be a tune written by my good friend, the late P/M Donald Shaw Ramsay, called Tam Bain's Lum. One would find it on an LP by the Invergordon Distillery Pipe Band, 1966 era. This is a wonderful recording by an outstanding band.
The history of the composition of this pipe tune was given to me by James Hutton, RSPBA judge. Donald Shaw Ramsay, from 1950 - 1957, was the Pipe Major of the Edinburgh City Police Pipe Band. Donald would drive through a wee village, quite near Falkirk, named Laurieston. On the side of the road was a small row of tenement housing about 3 stories in height. At the end of one of the buildings was this strange, funny looking chimney in the shape of Abe Lincoln's hat. I believe they were called a tile hat. The man who lived there was named Tam Bain. Donald was so taken by this chimney that he wrote a tune about it somewhere between 1952 and 1954 and included it in his repertoire of tunes.
If one has a chance to visit Laurieston, sadly the row of housing is gone - but wait ! Across the road from the old site is a pub called Tam Bain's Lum and inside, enclosed in a glass case, is that very same chimney that Donald Shaw Ramsay wrote about.
Aw Ra Best,
William J. McErlean

Donald Ramsay on his retirement with John Burgess, his successor
---
Monday, October 15, 2007
Celebrity Status for Bill Cosby !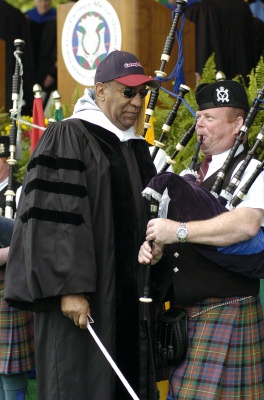 This must have been a grand day for comedian Bill Cosby - to meet Pipe Major Alasdair Gillies at the May graduation of Carnegie Mellon University. Alasdair, piping instructor at CMU, is currently preparing hard for his venture to the Glenfiddich Championships later this month. We wish you a few good tunes, Alasdair.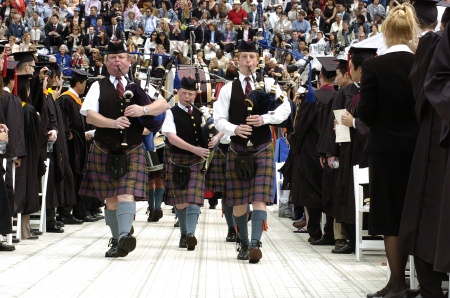 Not sure of the two outside pipers, but that is Norrie Gillies in the middle !
---
Monday, October 8, 2007
The Rocky Mountain Pipe Band Changes PM !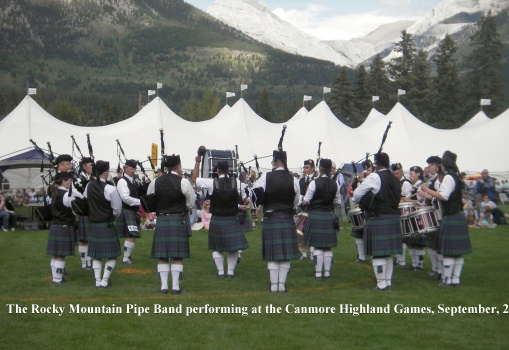 Just in from Ann Gray and reported in Pipesdrums :
"The Rocky Mountain Pipe Band, located just east of the Canadian Rockies in
Calgary, Alberta, wishes to announce the appointment of Ian Baxter as Pipe
Major, upon the retirement of Ross Barker from the role.

RMPB, a competitive grade 3 band, this year celebrates its 10th anniversary as a presence in Western Canada. Formed under the leadership of P/M Dean Rodger in
1997, the band started in grade 4, and moved into grade 3 in 2003. Ross Barker took over the role of P/M midway through the 2003 season.

The band flourished under P/M Barker, winning the Alberta grade 3 Championship
supreme in 2006 and again in 2007, the latter year tying for that honour with the current North American Grade 3 champions, Edmonton & District Pipe Band. The band travelled this past summer to Enumclaw, Washington, where the drum corps, under the leadership of L/D Ryan Sullivan, won the grade 3 MSR event.

Next year's travel plans include a trip to the west coast, as well as a trip east to compete at Maxville and Montreal.

Ian Baxter has been with the band since the spring of 2004. He hails from Port
Alberni on Vancouver Island, and received his early tuition from Rene Cusson.
Trained as a chef, Ian is working on enhancing his career options by learning
other trades; he is currently employed as an apprentice machinist at Pacific
Automation Ltd., a company under the umbrella of Mitek Canada.

Known not only for their traditional and innovative music but also for their
friendliness, hospitality, spirit, and never-ending cry of "sociable", the Rocky Mountain Pipe Band wishes to thank Ross for his years of commitment to
the role of Pipe Major. The band hopes that he'll continue to enjoy being a
player with the group for a long time to come, and wishes him success in his
solo piping career, on which he intends to focus over the next few years.

Anyone in the Calgary area who's interested in becoming part this strongly
competitive group is encouraged to attend a rehearsal to have a look & listen.
Practices are Thursday nights at 7:30 at the Chapelhow Legion in Calgary,
located at 606, 38th Avenue NE. Please feel free to contact the band at
rockymountainpipeband@hotmail.com
."
---
Friday, October 5, 2007
The Clan MacFarlane Pipe Band Reunion
1957 - 2007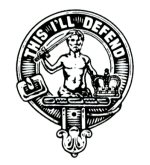 Click on Cap Badge for a Slide Show
Well this Saturday, October 6, 2007 marks the reunion of the Clan MacFarlane Pipe Band which emerged from the St. Catharines Pipe Band in 1957, under the leadership initially of John Kirkwood, Sr. As a tribute to this auspicious occasion, have a look at the band down through the years. Click on the cap badge for a small slide show from 1957 to present.... hope you enjoy!
Contact The Captain
---
Thursday, September 27, 2007

Everything Helps!

Need I say more ?

---
Monday, September 24, 2007
Free Samples!
Do you remember when you were a kid always asking for free this and free that ?... walking the aisles of COSTCO today at noon, you do not have to buy lunch....just sample all the free handouts ! Well, here it is...the first FREE PIPING SAMPLE! , compliments of Jim McGillivray and his Pipetunes.ca downloading site. Here is a chance for you to have a look at a great little slow air, Alice Cunningham, by the great Peter MacLeod.... hereto unpublished. If you like this delivery of music, you will find over 600 tunes on this new and innovative site. Kudo's to Jim McGillivray. Try this and then try the site for more. Happy tune hunting!

BONUS ! BONUS ! BONUS !
Want another complimentary tune from www.pipetunes.ca , then go to the School in the Captain's Corner and click on Classroom in the drop down menu. Have a read of Lesson 22. This is part of the subscription service for all pipers. Hope you enjoy the traditional jig, Donachd Head.
There will be other complimentary tunes from time time so check back often or contact The Captain.
---
The Summer in Pictures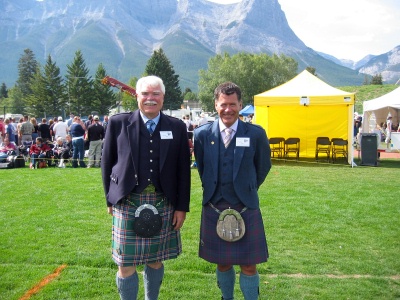 The Captain with fellow adjudicator, Bob Worrall at Canmore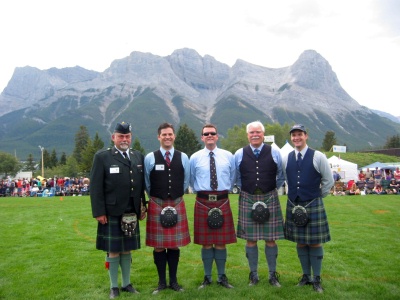 My Canmore judging team - Dusty Rhodes (M&D), David Hilder, Duncan Millar, The Captain, Alan Bevan
---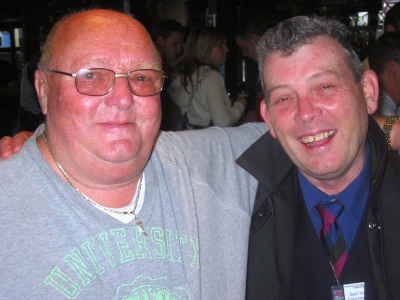 Bobby Rae, the great drummer from NI alongside his friend, piping judge Sam Young from Australia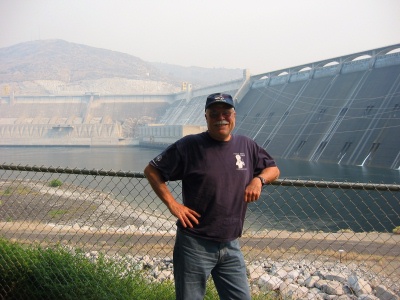 Just relaxing near the biggest dam on earth - the Grand Coulee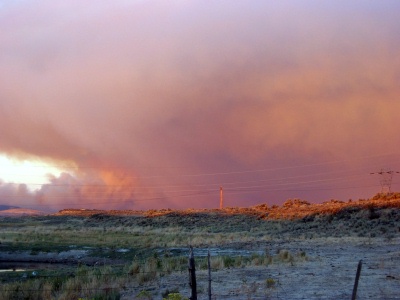 Smoke from a nearby forest fire stretched for some 75 miles....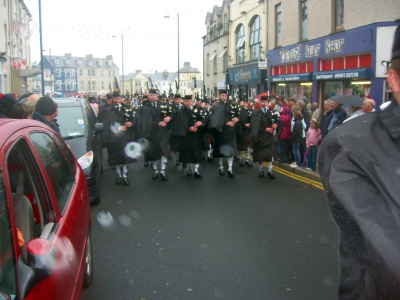 Pipe Major Richard Parkes leads FMM through the streets of Portrush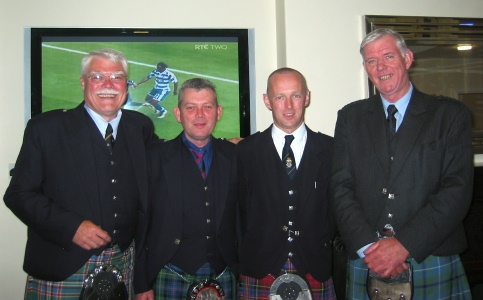 Portrush Judges at a Civic Reception - The Captain, Sam Young (Australia), David Brown, Alan Ronaldson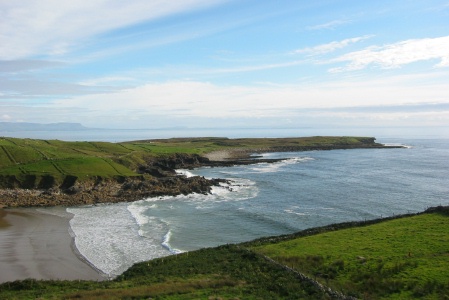 The rugged coast and beaches of Co. Donegal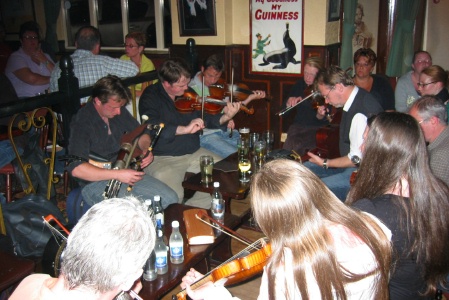 The session in Bunbeg, Co. Donegal in August.... the pubs come alive after 10 pm !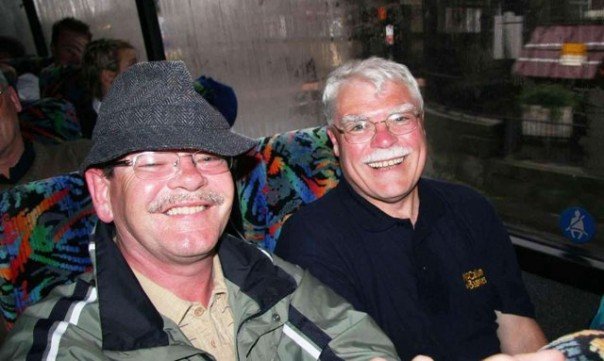 Pipe Major Nat Russell, Victoria Police, Order of Australia ... my friend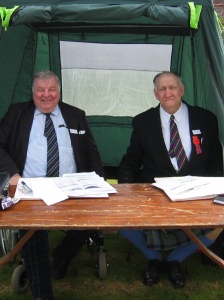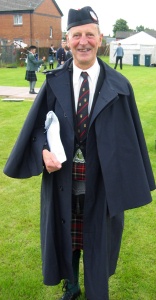 Angus J. MacLellan and PM Ronnie Lawrie on the bench PM George Lumsden, Edinburgh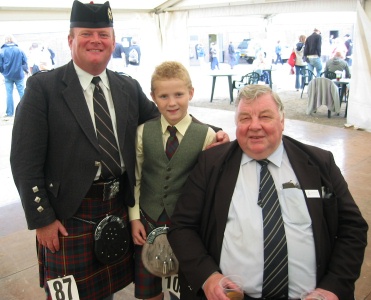 Pipe Major Alasdair Gillies introducing a young piper to Angus J. MacLellan at Cowal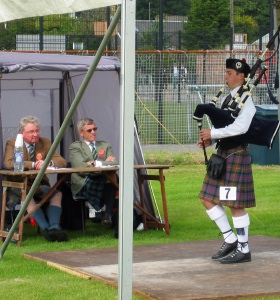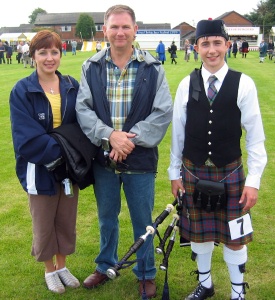 James Carnegie competing before Andrew Frater at Cowal and with his parents, Cindy and Kevin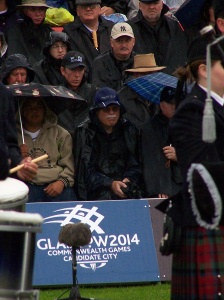 The Captain - enjoying the World's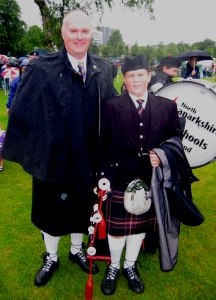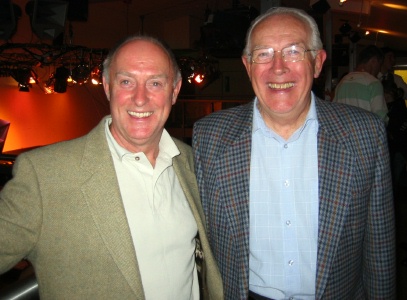 Iain and son Graham Donaldson Joe Noble and Ian MacLellan, long time stellar performers and adjudicators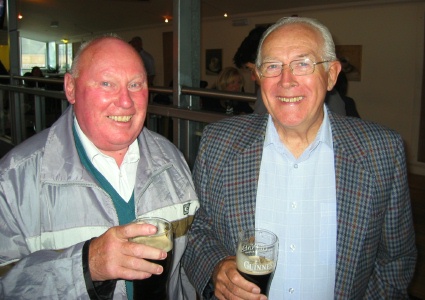 Two of my close friends on the RSPBA panel - Malcolm MacKenzie and Ian MacLellan
---
Special Presentation
Cruise the Caribbean in December!
Join the Captain and Tom Foote
Yes, its true ! Tom Foote (Metro Toronto Police and Tom Foote School of Drumming) and the Captain will be the instructors on board the piping and drumming cruise leaving Miami on December 13, 2007.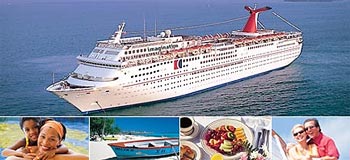 4 Day Western Caribbean Cruise from Miami, FL
Carnival Imagination
December 13, 2007
The cruise will stop at Key West and Calica, Mexico on the Yucatan Peninsula. Workshops are planned for the full day at sea after leaving Mexico. An evening recital and reception will welcome all guests on the first day. Private lessons or workshops may be booked by guests during the cruise. So Cruise and Pipe.... any amount of each.....For information, visit the Highlands and Islands Travel website. Special rates are applicable prior to April 19, 2007 and secured with a refundable $25 deposit.
---
The 2007 Ontario School of Piping and Drumming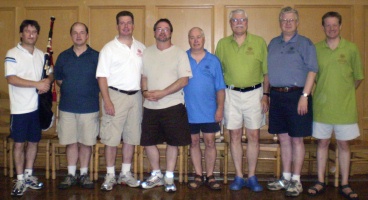 Listen to Angus MacColl, Jim McGillivray, Bruce Gandy, Ian K. MacDonald and Rob Crabtree
plus a special performance from Wednesday, June 26, 2007
---

The resting place for this blog from its inception to the present. All true stories!
A place where pipers can meet for a tune, a read and a pint - the latest in concert and contest recordings, book reviews and announcements.
An area designed for both education and enjoyment. Hear current band/solo contests and adjudicate them as one of the judges.

---
Copyright © 2005 - 2007 The Captain's Corner